PRODUCT & FEATURE HIGHLIGHTS
Supply Chain And Logistics Analytics
We're starting to roll out our analytics solutions, beginning with our Supply Chain And Logistics Analytics (SCALA) report which provides customers with a deeper understanding and optimization of their supply chains.
Road Story General Availability
Shipment road stories are now available for all shipit.to accounts for both future and past shipments. The road story provides you with an at-a-glance summary of the shipment's route and conditions, and it can be easily shared with colleagues and customers alike.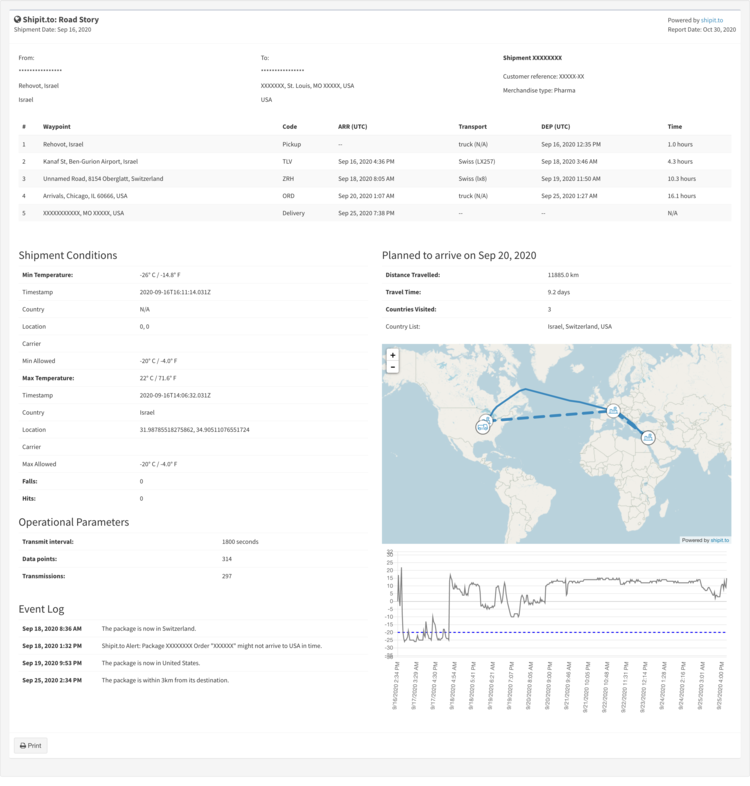 Advanced Shipment Filtering
We have introduced more useful filters for your shipments including the shipment's status, creation date, creating user, and origin and destination countries.
Reseller Management of Customers' IoT Trackers
It's now easier than ever for resellers to support their customers' accounts by directly monitoring and managing their stock of IoT trackers. All reseller accounts will now be able to choose which of their customers' trackers they wish to view and manage at any given moment via the Trackers screen.
CERTIFICATIONS & APPROVALS
Latest Airline Approvals
We're thrilled to announce that Cargolux, Korean Air, Asiana Airlines, and Austrian Airlines have recently approved the shipit.to IoT cargo trackers for use on their flights.
ioXt Alliance
Shipit.to has joined the ioXtAlliance to collaborate on making the Internet of Secure Things a priority for the logistics and supply chain industries.